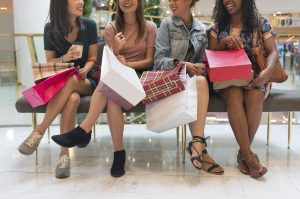 ---
Post Oak Mall is a short drive away, and it's where many College Station residents head when they need to do a little shopping.
In addition to retail shops, it's also home to three sit-down restaurants.
Highlights include:
Accessories
Samuels Jewelers - Samuels Jewelers has helped create perfect memories for more than 125 years. The company's diamond tradition began in 1891 in a three-story building in San Francisco where skilled designers created high-quality pieces. Founder Albert Samuels believed in providing superior value through innovation, creativity, and personal attention, and the staff carries on these values today. Items include bracelets, watches, and rings.
Sporting Goods
Hibbett Sports -Hibbett Sports is a leading athletic-inspired fashion retailer with more than one thousand stores nationwide. The company began in 1945 when Rufus Hibbett established the Dixie Supply Company, and three years later, it began selling school and team apparel. It changed names to Hibbett Sports in 1969, and today, each location offers friendly service and items such as sneakers, yoga pants, and vests, in addition to sports gear that includes baseball bats, soccer balls, and helmets.
Dining
BJ's Restaurant and Brewhouse - BJ's has welcomed hungry diners since 1978. It's known for serving award-winning beer, delicious meals, and a world-renowned dessert called Pizookies. The staff takes pride in paying attention to detail, and they often know regulars by name. In the kitchen, the chefs prepare meals such as New Orleans jambalaya, Atlantic salmon, and deep dish ziti.
Post Oak Mall is just one of the shopping destinations that you can enjoy if you call our apartments in College Station, Texas home. Please contact us to schedule a tour where you can see our amenities firsthand.