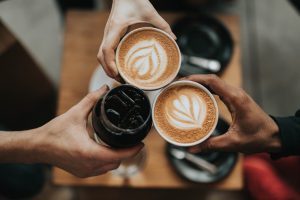 ---
Of course there are several Starbucks locations within a few miles of Rise at Northgate. In fact, the closest is only a four-minute walk away. But sometimes you want something that feels a little less corporate. Never fear, there are several great coffee shops within a few miles of Rise at Northgate.
Sweet Eugene's (1702 George Bush Drive E)
Up early and need a jolt before class? Up late studying and desperate for some caffeine to help your eyes stay open? No matter what's up, Sweet Eugene's is there for you. They open at 6 am (an hour later on Sundays) and don't close until 1 am (an hour later on Friday and Saturday). Settle into a comfy chair with a date, a friend you need to catch up with, or a good book and stay awhile. Large tables provide a great workspace. Choose from a wide variety of hot and cold beverages, java shakes, and smoothies. Refill your tank with a wrap, panini, crepe, or pastry.
The Brew Coffeehouse (410 Harvey Road B)
Yes, this coffee shop is housed in a church building. No, you don't have to go to the church to enjoy drinks, work at handmade tables, and use the free wifi. Order the "secret handshake," their most popular drink. When asked for the password, knock twice on the counter. You will be presented with a delicious iced white mocha made with Ghirardelli white chocolate, caramel, and vanilla. Brewed coffee drinks come from the local Independence Coffee Company. Open daily at 7 am and most nights they close at 11, although Fridays and Saturdays they close at 8 pm.
1541 Pastries & Coffee (1808 Brothers Boulevard)
It's entirely possible that the art on top of your latte makes it taste better. This local favorite is known for making pandas and cats out of the foam and syrup on your drink. The poblano turnovers are very popular but the creme puffs and carrot cupcakes are delicious too.
Minuti Coffee (424 North Point Crossing)
No, it's not a small locally owned coffee shop (although it is based out of Houston), but Minuti is very convenient to Rise at Northgate. It's quite a hip and modern hangout and they are extremely passionate about their Italian heritage and coffee. If you need to feed your java addiction between the hours of 7 am and 10 pm, Minuti is there for you every day of the week.
Check out each of these coffee shops and figure out which one is your favorite. If you're a student looking for a place to call home in College Station, contact us.28