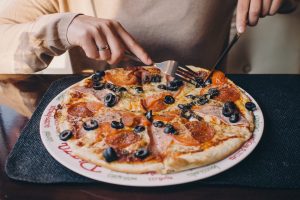 ---
Did you know that Italians once considered pizza a meal for peasants?
Originally, the baked dough was covered in herbs and spices, but that changed after baker Raffaele Esposito created a pizza for Queen Margherita that consisted of red tomato sauce, mozzarella cheese, and green basil.
The ingredients represented the colors of the Italian flag, and it wasn't long before pizza with toppings became a staple at restaurants throughout the country.
If you would like to enjoy pizza for dinner tonight, head to one of College Station's best pizzerias:
Napa Flats Wood-Fired Kitchen
When Tom Kenney decided he wanted to create a neighborhood eatery that served delicious, chef-inspired cuisine, the Napa Flats Wood-Fired Kitchen was born. Before the restaurant opened its doors, his friends and family had many lively debates about which dishes would make the menu, and today, guests can watch the chefs prepare the meals in the open kitchen. All of the twelve-inch pizzas are fire-baked in a wood-burning oven, and choices include Margherita, Brazos barbecue chicken, and pepperoni.
Gumby's Pizza
Known as the home of the original Pokey Stix, Gumby's is where guests can enjoy an exceptional dining experience. The restaurant's philosophy is "don't just satisfy the customer - impress them," and the pizzas are crafted using made-from-scratch dough and the finest meats and vegetables. Guests enjoy the casual dining area where they can meet friends and family for a leisurely meal, and specialty pizza options include Heart Attack, Meat Locker, and Pepperoni Powerhouse.
These are just two of the pizzerias that you can enjoy if you call our apartments in College Station, Texas home. Please contact us to schedule a tour or to learn about our leasing options.