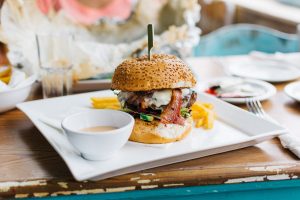 ---
College Station's Best Burger Joints
Did you know that seventy-one percent of beef sold in restaurants is in the form of a hamburger?
If you would like to bite into a juicy burger for dinner tonight, visit one of the following restaurants:
Carter's Burgers
Carter's is family owned and operated, and it's where the cooks take pride in preparing classic American burgers. They're made with Nolan Ryan Beef and served on fresh Mrs. Baird's buns. The staff is friendly, and the dining area is complete with large windows, photographs, and plenty of seating. Guests enjoy the variety of specialty burgers including Scary, Mexican, and Baby Bonfire.
Texas Roadhouse
It was in the winter of 1993 that Kent Taylor established the first Texas Roadhouse in Indiana. He wanted a restaurant where all ages could gather to enjoy a delicious meal and plenty of fun at a reasonable price. The chefs handcraft almost everything they make and offer large portions so that guests get more for their money. The dining room is where everyone is entertained by line dancers and songs from the jukebox, and the service is always friendly and attentive. Try the Smokehouse burger that's topped with sauteed mushrooms, onions, barbecue sauce, and American and jack cheeses.
Fuddruckers
Fuddruckers was founded as the owners were on a mission to create the world's best burger. It opened in 1980 and features a casual atmosphere where friends and families can meet for a leisurely meal. The burgers are always made with one hundred percent USDA beef and are grilled to order. The buns are baked in-house daily, and guests can customize their burgers at the toppings bar with crisp lettuce, pickles, tomatoes, and more.
These are just three of the burger joints near our apartments in College Station, Texas. If you would like to call our community home, please contact us to schedule a tour.