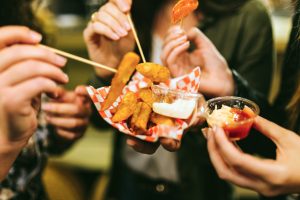 ---
The city of College Station is now home to an innovative new way of experimenting with different cuisines. The Wayside Food Park, just a ten-minute walk from Rise at Northgate, features up to ten different food trucks at a time, giving diners a wide range of flavors to try, from barbecue to ice cream, and even breakfast foods like waffles! Here's what Northgate residents can expect when they visit Wayside Food Park.
Find a delicious meal any time of the day
Busy college students will appreciate the flexibility offered by the food park's long hours. Wayside Food Park serves food starting as early as 5 AM and remains open as late as 3 AM.
Get comfortable in a beautiful pavilion
Unique among other food parks, Wayside Food Park includes a permanent, cafeteria-style pavilion that provides diners with shade during the hot Texas summer, as well as a warm space to relax during the cold weather months.
Support local businesses
Wayside Food Park rents local businesses space for their food businesses, like College Station's Moki Hoki. That means when you grab a meal at the food park, you're supporting your neighbors' restauranteur dreams while enjoying all kinds of exciting and diverse cuisines.
Get a bite to eat while you shop
The food park is located just off Route 6, and within walking distance of several shopping outlets. College Station residents can treat themselves to a convenient lunch while they complete errands or get in some retail therapy!
The Wayside Food Park is a unique addition to the array of food options available in College Station. The thriving number of dining choices available to locals is indicative of the growth trend College Station is currently experiencing. Thinking of calling College Station home? Contact us to learn more about our community and schedule a tour!