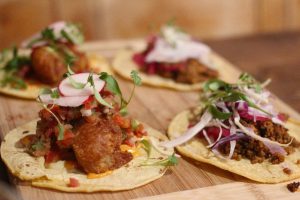 ---
Our residents at Rise at Northgate have a ton of nearby dining and entertainment options. If you're craving beans, cheese, and tender proteins wrapped in soft tortillas, visit one of the area's tantalizing Mexican eateries.
Located a couple of blocks away from the Rise at Northgate, Mad Taco prides themselves on serving made from scratch tacos with a twist. Their tacos are served on a unique homemade tamale bread and come in fourteen varieties, including green chile chicken, grilled tuna, and beef short rib. Mad Taco also offers Latin American pizzas made on their homemade tamale bread. Check out their bacon corn green chile pizza or the grilled steak pizza. Mad Taco also serves a variety of appetizers and salads as well.
Also located down the street from the Rise at Northgate, Fuego Tortilla Grill serves authentic and delicious Mexican food in large portions. Drop by for their all-day breakfast tacos, including their chicken and waffles or their Sunday Brunch Taco. Or come by for one of their twenty varieties of tacos, filled with your choice of beef, fish, brisket, and vegetables and then combined with premium toppings such as fried avocados, roasted poblano queso, and chipotle cream corn.
Another nearby Mexican restaurant is Lupe Tortilla, a local Mexican restaurant chain. Lupe Tortilla offers a huge selection of both traditional and unique Mexican dishes, served in their spacious and casual restaurant space. Try one of their appetizers such as the tableside guacamole or the crab-stuffed avocado. If are looking for a traditional Mexican meal, choose one of their many taco, enchilada, or combo plates. If you want something different, check out their variety of seafood, vegetarian, and grilled dishes. They also offer many great desserts, such as their fried apple burrito and the double chocolate praline prownie.
Interested in joining a community near all these great restaurants and more? Contact us for more information.