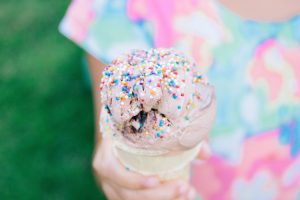 ---
No matter the month or season, a scoop of ice cream beckons when the craving for something sweet strikes. To satisfy your hankering, step inside one of these tasty destinations.
Marble Slab Creamery
You'll find hand-blended ice cream delights with an endless list of mix-ins to customize your dessert at Marble Slab Creamery. With menu items that you won't find anywhere else, such as the classic ice cream cupcake, a chocolate lovers ice cream pizza, hand-packed pints and quarts of your favorite flavors and more, you'll always find a reason to head straight for Marble Slab Creamery.
Spoons Yogurt
When you need that delicious frozen treat with a healthy twist, Spoons Yogurt is just the place to find it! Offering 12 flavors of yogurt and an endless list of fruit, candy, and other great toppings to choose from, you can customize your yogurt exactly how you envision it! Most selections are fat-free and sugar-free so you can indulge all you want with no guilt.
Cold Stone Creamery
When you have your own creation in mind, Cold Stone Creamery is ready to make it just for you! Decide on your flavor and your mix-in ingredients, and watch it being created on a granite slab. With ice cream made fresh in every store, you can be sure that you are getting the finest quality available. Next time you need to take a break from the books, head out the door and over to Cold Stone Creamery for that well-deserved ice cream treat!
For more information on calling this neighborhood your home, contact us today.