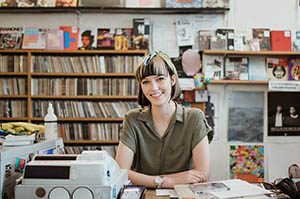 ---
Music offers wonderful ways to express yourself, relax, and have fun. There are many different genres to listen to and instruments to play. College Station, Texas is home to many great music stores and record shops so you can be sure to find your favorite record, CD, or tapes. Some shops even offer lessons if you would like to learn a new instrument! Some of the music stores you should check out include:
Thorn Music Center
Thorn Music Center is locally owned and operated and has a friendly and approachable vibe. They carry a large variety of instruments and offer repairs, rentals, and rent-to-own programs if you are tight on cash or just don't know if you are ready to buy. Thorn has percussion, reeds, guitars, keyboards, band, and orchestra instruments just to name a few as well as music books, microphones, and pedals.
Accent Music Studio
If you are interested in learning theory, piano, keyboard or voice, Accent Music Studio is the perfect place to go. This studio is owned and operated by a well-known performer and instructor named Charlotte Wilson. Wilson offers challenging lessons for anyone from the young and inexperienced, to seasoned musicians and vocalists who would like to become even better.
Guitar Center
Guitar Center is a well known and loved music store that offers a large variety of instruments, music books, supplies, and lessons. This store allows you to plug and play before you buy so you can be confident in your purchase. If you are interested in learning a new instrument or improving what you already know, Guitar Center offers lessons for guitar, bass, drums, keyboard, band & orchestra, and also offers lessons for vocals and recording software. This store is a playground for musicians and has been around for a long time so you know that you are in good hands.
Are you interested in more of what College Station has to offer? Contact us today to schedule a tour at Rise at Northgate.