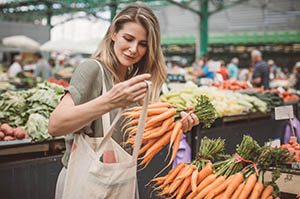 ---
Nestled in historic downtown Bryan is a destination that supports the region's farms.
We're talking about the Brazos Valley Farmers Market, and it welcomes shoppers year-round.
The market began from humble beginnings, and today there are dozens of vendors including:
Wolff Family Farms
The Wolff family has farmed their land since 1910, and today it is run by the fourth and fifth generations. David is a horticulturist who uses sustainable methods of food production, and the selection includes celery, bok choy, and Italian parsley.
No Worries Cattle Company
The No Worries Cattle Company is a family run business that raises one hundred percent Aberdeen Black Angus cattle. It's situated just twenty minutes outside of College Station and is known for its quality products such as New York strip steaks, chuck roasts, and ground beef.
Prime Bees
Owned and operated by Justin Russell and Ashley Ralph, Prime Bees is a bee farm that offers Aggieland honey. It is coarsely filtered to leave the beneficial pollens intact, and the selection also includes pure beeswax and skincare products.
Granny's Garden
Granny's Garden is a 160-acre farm that was established nearly one hundred years ago. The founders understood the importance of a self-sustainable lifestyle based on producing wholesome food, and today Mike and Diana Teinert carry on their tradition. They are proud to offer one hundred percent all-natural grass-fed beef, and products include steaks, patties, and stew meat.
Harvest Moon Canning Company
The Harvest Moon Canning Company was born after Jennifer Windham-Gibbs' father asked her to make jam using the berries on his land. He loved what she made, and soon canning became her passion. More than twenty years later, Jennifer still harvests crops by the light of the harvest moon, and jams include Blueberry Blast, Blackberry Overload, and Chunky Funky Fig.
The Brazos Valley Farmers Market is just one of the shopping destinations near our apartments in College Station, Texas. If you are searching for a place to live, please contact our friendly leasing agents to arrange a tour.