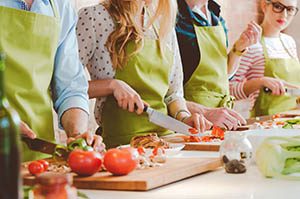 ---
Once a month, Messina Hof on Old Reliance Road in Bryan hosts a cooking class for people of all ages to cook various diverse cuisines from 1 pm to 3 pm. Beginners and experts alike are invited to attend this event to learn more about cooking techniques and styles. Each participant will receive a recipe book and the chance to win culinary door prizes. Here is a look at upcoming themes for the rest of the 2018 season.
August 19: Spanish Tapas
Tapas are small portions of classic Spanish dishes and may include paella, pincho, Spanish omelets, and more.
September 16: Cajun vs. Creole
Cajun food originates from the Acadians of Canada who forcibly migrated to the swampy regions of Louisiana, whereas Creole food is associated with the children of French, Spanish, and African settlers in and around New Orleans.
October 21: Cuban Cuisine
Cuban cuisine is incredibly diverse and is inspired by Native American Taino food, Spanish, African, and Caribbean influences. Dishes may include tamales, medianoche, congri, and more.
November 18: Holiday Fare
This month's theme will celebrate the upcoming holidays and focus on festive holiday meals such as turkey and ham as well as side dishes that may include macaroni and cheese, mashed potatoes, and more.
December 16: Sweet & Savory
Finally, Messina Hof will teach you how sweet and savory flavors work together within your dish and upon your taste buds to create unique and exciting flavors.
Contact us or follow our blog at the Rise at Northgate to learn more about living in College Station and to schedule a tour of our community.