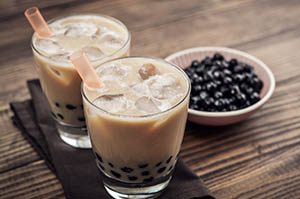 ---
Discover the very best destination for milk tea, bubble tea, shaved ice, and smoothies when you visit Kung Fu Tea. Located conveniently close to the apartment community Rise at Northgate, Kung Fu Tea is a local hotspot offering a wide variety of delicious beverages that are all made to order and completely customizable. Learn about what makes this College Station drink stop so special!
Quality and Service
Kung Fu Tea was founded in 2009, with a commitment to providing legions of satisfied customers with the very best bubble tea and milk tea beverages available. Their staff is proud to be "Kung Fu Masters" of crafting drinks, and offer friendly service and attention to detail with every visit. Kung Fu Tea uses only all-natural ingredients, including handpicked tea leaves, in every drink. Visit Kung Fu Tea in College Station and discover your next favorite type of drink!
The Bubble Tea Difference
Bubble tea is a Taiwanese tea drink that contains deliciously chewy little tapioca balls (bubbles). Hundreds of devoted fans visit Kung Fu Tea to get their bubble tea fix, or to try one of their many other beverage types. Unsure of what to try on your first visit? Pick something from the best sellers menu, which contains favorites like coconut milk tea, a mixture of coconut flavoring, non-dairy milk, black tea, and water, or the red bean wow milk, a sweet drink blend of brown sugar and whole milk. Smooth and flavorful, red bean wow milk contains delicious bubbles and your choice of topping mix-ins. No matter what you choose, you will be sure to enjoy the signature Kung Fu Tea experience as well as a delicious drink!
Become a resident of the Rise at Northgate apartment community and you too can enjoy great local places like Kung Fu Tea and so much more. Contact us today to schedule your tour.