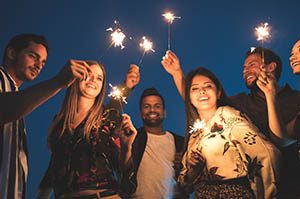 ---
Summertime is all about unwinding and enjoying the late summer nights. It also provides a great opportunity to get to know the community better and connect with friends and family. Here are three different summer night events going on in the College Station, Texas area to take advantage of:
Movies by the Pond
Hosted by the George Bush Presidential Library and Museum, movies by the pond will be taking place on certain days of the month from May through September. Starting at 7pm, there will be games and free refreshments and the movie will start right after sundown. Don't forget to bring your lawn chairs and a picnic blanket and maybe even some snacks. You might also want to come even earlier to check out the new exhibit at the museum, "Leonardo da Vinci: Machines in Motion." Here you can have a hands-on experience with some of the principles created by Leonardo de Vinci to create these machines.
Summer Movie Series
Check out the Century Square Cinemas for the summer movie series starting June 20th. Each movie night under the stars is free starting at 8pm. Don't forget to bring a blanket to cozy up on and hit up one of the many restaurants in the Century Square for a meal to-go.
Starlight Music Series
Finally, be sure to check out the Starlight Music Series at the Wolf Pen Creek Amphitheater. This is a free event starting at 7pm with dates scattering from May 5th to June 9th. Bring your own lawn chairs and coolers full of food and drinks and enjoy some live music with friends, family, and others in the community.
College Station, Texas has plenty going on this summer. If you are looking for some more local events and entertainment, be sure to check out our blog or contact us today.