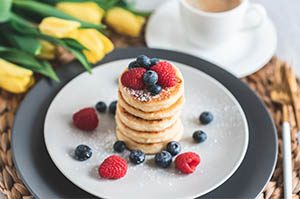 ---
There are a variety of amazing breakfast spots for students near College Station, Texas. Here are three awesome options that you should definitely consider.
If you love the idea of a freshly made pastry, then 1541 pastries is a great option for you. They serve everything from cream puffs with vanilla cream and fruit to palmiers that are topped with a blend of cinnamon and sugar. Another breakfast specialty includes croissants with sausage, egg, and bell peppers. The coffee that they serve is made from coffee beans that they get from different plantations all over the world and they come up with their own unique coffee blends to serve and please their customers.
If you are in the mood for a delicious donut, then Donald's Donuts will satisfy this craving for you. They have a variety of glazed donuts, cake donuts, cinnamon rolls, cream-filled donuts, powdered donuts, and more. As an added benefit, they open at 5 am, so if you have to be up early, you know that they will be open and waiting to serve you.
If you are in the mood for a hearty breakfast and a lot of variety, then First Watch is the place to go. They have everything from your traditional breakfasts that incorporate eggs, pancakes, bacon, and sausage, to omelets of all kinds. They also have a variety of healthy breakfast options if you are looking for menu items on the lighter side, such as avocado toast, egg white omelets with turkey, and power bowls with quinoa, kale, mushrooms, and a variety of meat options.
If these breakfast spots sound great to you and you would like to live in the area, then you may want to check out the student housing apartment community in College Station, Texas. For more information, you can visit us here.