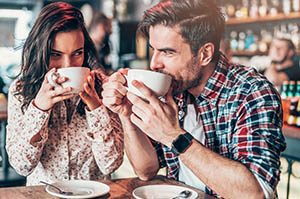 ---
Whether it's a late-night study session or a casual visit with friends, a coffee shop can provide the perfect backdrop. The invigorating smell of fresh-brewed coffee and the calming buzz of fellow patrons around the shop is a real treat. Our luxury apartment community is conveniently located next to some fabulous options - here are the very best College Station coffee shops!
What's the Buzz Coffee
A local roastery with small-town charm, What's the Buzz Coffee believes that quality is enhanced during every step of the coffee-making process, from the harvesting of the beans to the final pour. What's the Buzz features grab-and-go coffee, as well as a wide variety of coffee beans and blends. No matter your caffeine craving, What's the Buzz aims to satisfy. Pick up a few bags of ground coffee to take to your apartment, and enjoy the delicious brew at your convenience!
Sweet Eugene's House of Java
An eclectic coffee shop with extended hours that are ideal for students, Sweet Eugene's House of Java offers free Wi-Fi, delicious food (including treats like apple fritters, breakfast, lunch, and dinner crepes, and a wide variety of sandwiches), and of course, amazing coffee. Enjoy their comfortable atmosphere while sipping on a freshly-prepared beverage, and discover what makes Sweet Eugene's a local favorite.
Lupa's Coffee
Open from 7 am - 1 am on weekdays, and 8 am - 1 am on weekends, Lupa's Coffee offers great coffee and flexible hours to suit a busy schedule. Lupa's not only serves carefully crafted coffee and artisan pastries (like their famous homemade pop tarts) but a wide selection of teas and smoothies as well. There is ample space for studying or relaxing, and a bright, friendly vibe enhances the charm.
Enjoy all of these delightful coffee shops, and much more, when you join our community at the Rise at Northgate. Contact us today to learn more or schedule a tour!